Ground Zero and the New Reformation
How to Be Baptized with the Holy Spirit - Part 3
DVDs
To purchase a DVD of this sermon please visit our online shopping cart. Proceeds go to support the New Perceptions media ministry.
Buy DVD Online
Buy series
Speaker
Dwight K. Nelson
Since 1983, Dwight Nelson has served as lead pastor of the Pioneer Memorial Church on the campus of Andrews University. He preaches on the "New Perceptions" telecast, teaches at the theological seminary and has written some books, including The Chosen. He and his wife, Karen, are blessed with two married children and 2 granddaughters.
Offering
Saturday, September 23, 2017
Program:
Agnus Dei, Above All, Holy Spirit Rain Down
My Shepherd Will Supply My Need • Claude Smith
"Ground Zero and the New Reformation: How to Be Baptized with the Holy Spirit"—3 • Dwight K. Nelson
Sent Forth by God's Blessing • 407
Allegro vivace • Edvard Grieg
"Ground Zero and the New Reformation:
How to Be Baptized with the Holy Spirit"
Day by Day

Jesus

Luke 9:23—"Then he said to them all, 'Whoever wants to be My disciple must deny themselves and take up their cross daily and follow Me.'"
Luke 11:13—"'If you then, though you are evil, know how to give good gifts to your children, how much more will your Father in heaven give the Holy Spirit to those who ask Him [GK—continually]!'"
John 7:38-39—"Whoever believes in me, as the Scripture has said, streams of living water will flow from within them.' By this He meant the Spirit."

Paul

2 Corinthians 4:16—"Therefore we do not lose heart. Though outwardly we are wasting away, yet inwardly we are being renewed day by day."
Christian Wiman—"Seven years ago I wrote a short essay called 'Love Bade Me Welcome.' It was published (with a different title) in a relatively small magazine, and it generated what was, in my experience, a lot of responses. It was later, though, on the internet, in anthologies, in church services and reading groups, that the essay acquired its second life, and I still get the occasional letter from someone who has come across it. . . . And the essay itself? It was about despair: losing the ability to write, falling in love, receiving a diagnosis of an incurable cancer, having my heart ripped apart by what, slowly and in spite of all my modern secular instincts, I learned to call God." (My Bright Abyss: Meditation of a Modern Believer vii)
Ephesians 5:18—". . . be filled [continually/day by day] with the Spirit."
Galatians 5:16—". . . walk by the Spirit [continually/day by day]."

Ellen White

Desire of Ages 313: "We are to follow Christ day by day. God does not bestow help for tomorrow."
Steps to Christ 70: "Consecrate yourself to God in the morning; make this your very first work. Let your prayer be, 'Take me, O Lord, as wholly Thine. I lay all my plans at Thy feet. Use me today in Thy service. Abide with me, and let all my work be wrought in Thee.' This is a daily matter."
Christ Triumphant 122: "To follow Jesus requires wholehearted conversion at the start, and a repetition of this conversion every day."
Acts of the Apostles 50: "For the daily baptism of the Spirit every [follower of Jesus] should offer his petition to God."
Ye Shall Receive Power 67: "Those who have been impressed by the Holy Scriptures as the voice of God, and desire to follow its teachings, are to be daily learning, daily receiving spiritual fervor and power, which have been provided for every true believer in the gift of the Holy Spirit."

Faith Not Feeling

1 John 5:14-15—"This is the confidence we have in approaching God: that if we ask anything according to His will, He hears us. And if we know that He hears us—whatever we ask—we know that we have what we ask of Him."

Helmut Haubeil—"What does [1 John 5:14-15] mean? Our prayers according to God's will are answered in the same moment that we bring them to God. But emotionally we usually don't notice anything. Our prayers are answered by faith, not by our feelings. The feelings will come later on." (Steps to Personal Revival: Being Filled with the Holy Spirit 88)
Dominique Gummelt—"Feelings follow behavior—the key to living."

Two conditions to the daily baptism of the Holy Spirit: You ask for all of Him; and He asks for all of you.
Romans 5:5—". . . God's love has been poured out into our hearts through the Holy Spirit, who has been given to us."
Christian Wiman—"When my wife and I fell in love eight years ago, both of us—spontaneously, though we'd been away from any sort of organized religion for years—began praying together. The prayers were at once formal and improvisational, clear spirited but tentative, absolute but open ended. They were also . . . deeply serious and, as my illness made clear when it came slashing through our lives, sustaining. . . . I don't think the human love preceded the divine love, exactly . . . . I only know that I did not know what love was until I encountered one that kept opening and opening and opening. And until I acknowledged that what that love was opening onto, and into, was God." (22-23)
Download PDF of Helmut Haubeil's Steps to Personal Revival
"All of Me for you . . .All of you for Me"
Offering for September 18, 2021
Pioneer Operating Budget
During the early days of the Seventh-day Adventist movement, church buildings were few. Battle Creek, Michigan, had become the center for the Seventh-day Adventist Church. They needed to build a church large enough to house the rapid membership growth, camp meetings, and General Conference sessions.
Elder James White, one of the founders of the church, thought of a plan. He suggested, "If each month, every member would donate one dime, within one year we could raise enough money to build a new church structure." At that time, the average price of a home was around $2,000.
The members adopted the project. On April 20, 1879, they dedicated the new church, debt-free. The "Dime Tabernacle," capable of seating 4,000 people became the fourth church structure of the Seventh-day Adventist denomination.
The fund-raising plan was simple; Give a dime per month. A dime then would be equivalent to $2.25 today. Even though $2.25 is 22 ½ times more than a dime, it still isn't much money in today's economy!
Widespread participation brought success. When the members took this as their project, the Lord blessed.
When God's people come together, like they did with the Dime Tabernacle, God will move hearts to accomplish His will through His children. "And he said, The things which are impossible with men are possible with God." Luke 18:27
—North American Division Stewardship Ministries
Volunteers Needed for Upcoming Fellowship Dinners
Volunteers are needed by the Fellowship Dinner teams to assist with the preparation and service of the fellowship dinners which we hope to be able to resume soon. Teams serve about three times a year, so the time commitment is minimal, but your help is invaluable. Please let us know you if can help by emailing Ben Chilson at bennettc43@gmail.com. You will be assigned to a team that fits your schedule.
Adventurers & Pathfinder Registration Open
Our Pathfinder and Adventurer Clubs are back in session this fall. Join below:
Pathfinders text "PMCEP" to 269-281-2345 or join online.
Pathfinder Staff Members text "EPSTAFF" to 269-281-2345 or join online
Adventurers text "PMCFF" to 269-281-2345 or join online
It's Time for Fall Grow Groups!
Fall Grow Groups are here and we are so excited to have more than 50 groups available to join this semester! The session officially begins September 19, so don't wait!
We have a variety of groups meeting every day of the week. Pioneer is continuing to offer groups both in-person and online, so we think you'll be able to find one that works for you--whether you're looking for Bible study, support, art, prayer, discipleship, or activity groups.
Grow Groups are open to everyone–so invite a friend and join us! Text "JOIN" to 269-281-2345 or choose your group online.
If you have any questions, email us at growgroups@pmchurch.org.
The Darkness Will Not Overcome Series
The Darkness Will Not Overcome is an 8-part series that will inspire, equip, and empower you to live your best life possible. In every presentation you will learn practical ways we can experience healing, hope, and change. Whatever your "darkness" is—an addiction, a mental health struggle, dysfunction, past trauma, broken relationships, or lack of direction—the Darkness Will Not Overcome! Beginning Friday, October 1.
Neighbor to Neighbor Helping Hands Team
Neighbor to Neighbor (our local Adventist Community Services center) is currently looking for volunteers for their "Helping Hand Team". To respond, please call 269-471-7411 or visit them at 9147 US 31, Berrien Springs, MI.
Pioneer Collegiate Sabbath School
Pioneer's new Collegiate Sabbath School meets in the Pioneer Commons! This is a place for interactive connections with Collegiates and with God, to study the stories of Jesus and what they mean for us today. Breakfast snacks will be provided.
Weekly on Sabbath, 10:30 AM
Location: Pioneer Commons
Care Giver's Support Group
Are you the primary caregiver for your spouse or another person? If so we have a resource available for you. Care Giver's Support Group, Thursday evenings starting at 6:30 PM, at Neighbor to Neighbor (West entrance). You're invited to come and  recharge your "batteries". For more information call Pastor John Glass at 262-825-3632.
Howard Series Presents: Risus Quartet
Winners of the 2021 Fischoff Grand Prize and Gold Medal, the Risus Quartet was officially founded in 2020 in South Korea by four young passionate musicians. "Risus" in Latin means "laugh" and was named in the sense of wanting to give joy and laughter to their audiences.  After graduating from Seoul National University, the quartet members began their studies in the United States where they broadened their view as musicians.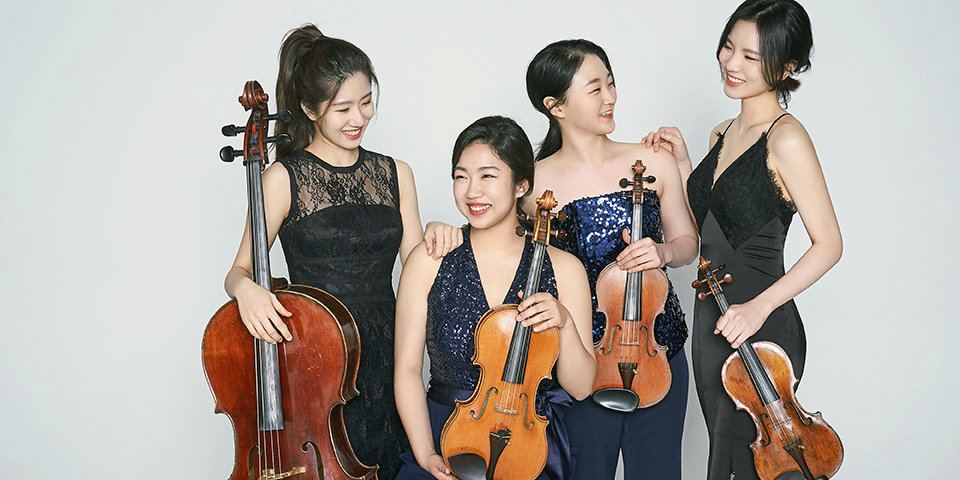 Pages