Charmed into Righteousness
The Most Loving God
DVDs
To purchase a DVD of this sermon please visit our online shopping cart. Proceeds go to support the New Perceptions media ministry.
Buy DVD Online
Buy series
Speaker
Dwight K. Nelson
Since 1983, Dwight Nelson has served as lead pastor of the Pioneer Memorial Church on the campus of Andrews University. He preaches on the "New Perceptions" telecast, teaches at the theological seminary and has written some books, including The Chosen. He and his wife, Karen, are blessed with two married children and 2 granddaughters.
Offering
Saturday, February 27, 2016
Program:
Love Divine, All Loves Excelling • Under The Blood Better Is One Day • I Could Sing Of Your Love Forever
Erin Nicole Cross with Rodlie Ortiz
Poem of Divine Love • Kenneth Logan
I'm Goin' to Sing • Spiritual /Alice Parker & Robert Shaw
"Charmed into Righteousness: The Most Loving God" • Dwight K. Nelson
Connect Card, Tithes & Offerings
God Be With You Till We Meet Again • Ralph Vaughan Williams
O Love, How Deep, How Broad, How High • David Johnson
"Charmed into Righteousness: The Most Loving God"
John 13:1—"Having loved his own, he   them to the end."

John Peckham: "Profound love is connoted by the expression 'to the end,' likely connoting both and .  Herman N. Ridderbos renders it 'love to the last breath' and 'love in the highest intensity.'. . . Further, Christ's love is here described as 'for his own,' a term of to near relations' in some ancient Near Eastern literature." (The Love of God: A Canonical Model 149-150)

Jeremiah 31:3—"'I have [aheb] you, my people, with an everlasting [ahabah]. With unfailing [chesed] I have drawn you to myself.'"

Genesis 29:18—"Jacob was in [aheb] with Rachel and said, 'I'll work for you seven years in return for your younger daughter Rachel. . . . So Jacob served seven years to get Rachel, but they seemed like only a few days to him because of his [ahabah] for her."
God seizes the language of two and declares—that is how much I love you—with the passion of a Lover.
John Peckham: "Scripture consistently displays God's intensely and profoundly emotional love for his people." (147-148)
2 Samuel 1:26—"'I grieve for you, Jonathan my brother; you were very dear to me. Your [ahabah] for me was wonderful, more wonderful than that of women.'"
God seizes the language of two and declares—that is how much I love you—with the deep love of a friend.
Exodus 34:6, 7—"And he passed in front of Moses, proclaiming, 'The LORD, the LORD, the compassionate and gracious God, slow to anger, abounding in [chesed] and faithfulness, maintaining [chesed] to thousands, and forgiving wickedness, rebellion and sin. Yet he does not leave the guilty unpunished.'"

Jeremiah 31:20—"'Is not Ephraim my dear son, the child in whom I delight? Though I often speak against him, I still remember him. Therefore my heart yearns for him; I have great [racham] for him,' declares the LORD."

John Peckham: "This language depicts profoundly passible [capable of feeling] and intense emotionality, evidenced by the Hebrew idiom . . . which literally refers to turbulent or roaring internal organs and here 'depicts God's being churned up with longing for his son.'" (153)
We have but a faint and dim concept of how the love of God is for us.

"O Jerusalem, Jerusalem—how often I have longed to gather your children together, as a hen gathers her chicks under her wings, and you were not willing." (Matthew 23:37)
"Turn! Turn from your evil ways! For why should you die, O house of Israel?" (Ezekiel 33:11)
"Ephraim is joined to idols; leave him alone!" (Hosea 4:17)

1 John 4:8, 16—"God is ."

Romans 5:8—"But God demonstrates His own for us in this: While we were still sinners, Christ died for us."
1 John 3:1—"See what great the Father has lavished on us, that we should be called the children of God!"
1 John 4:10—"This is love: not that we loved God, but that he us and sent his Son as an atoning sacrifice for our sins."
John 3:16—"For God so the world that he gave his one and only Son, that whoever believes in him shall not perish but have eternal life."
Romans 8:35, 38-39—"Who shall separate us from the of Christ? . . . For I am persuaded that neither death nor life, neither angels nor demons, neither the present nor the future, nor any powers, neither height nor depth, nor anything else in all creation, will be able to separate us from the love of God that is in Christ Jesus our Lord."
John 15:13—"Greater has no one than this: to lay down one's life for one's friends."

Ellen White: "The last rays of merciful light, the last message of mercy to be given to the world, is a revelation of [God's] character of ." (Christ's Object Lessons 415)
"The Maker of all things loves and wants me."
—Reynolds Price
Offering for September 18, 2021
Pioneer Operating Budget
During the early days of the Seventh-day Adventist movement, church buildings were few. Battle Creek, Michigan, had become the center for the Seventh-day Adventist Church. They needed to build a church large enough to house the rapid membership growth, camp meetings, and General Conference sessions.
Elder James White, one of the founders of the church, thought of a plan. He suggested, "If each month, every member would donate one dime, within one year we could raise enough money to build a new church structure." At that time, the average price of a home was around $2,000.
The members adopted the project. On April 20, 1879, they dedicated the new church, debt-free. The "Dime Tabernacle," capable of seating 4,000 people became the fourth church structure of the Seventh-day Adventist denomination.
The fund-raising plan was simple; Give a dime per month. A dime then would be equivalent to $2.25 today. Even though $2.25 is 22 ½ times more than a dime, it still isn't much money in today's economy!
Widespread participation brought success. When the members took this as their project, the Lord blessed.
When God's people come together, like they did with the Dime Tabernacle, God will move hearts to accomplish His will through His children. "And he said, The things which are impossible with men are possible with God." Luke 18:27
—North American Division Stewardship Ministries
Volunteers Needed for Upcoming Fellowship Dinners
Volunteers are needed by the Fellowship Dinner teams to assist with the preparation and service of the fellowship dinners which we hope to be able to resume soon. Teams serve about three times a year, so the time commitment is minimal, but your help is invaluable. Please let us know you if can help by emailing Ben Chilson at bennettc43@gmail.com. You will be assigned to a team that fits your schedule.
Adventurers & Pathfinder Registration Open
Our Pathfinder and Adventurer Clubs are back in session this fall. Join below:
Pathfinders text "PMCEP" to 269-281-2345 or join online.
Pathfinder Staff Members text "EPSTAFF" to 269-281-2345 or join online
Adventurers text "PMCFF" to 269-281-2345 or join online
It's Time for Fall Grow Groups!
Fall Grow Groups are here and we are so excited to have more than 50 groups available to join this semester! The session officially begins September 19, so don't wait!
We have a variety of groups meeting every day of the week. Pioneer is continuing to offer groups both in-person and online, so we think you'll be able to find one that works for you--whether you're looking for Bible study, support, art, prayer, discipleship, or activity groups.
Grow Groups are open to everyone–so invite a friend and join us! Text "JOIN" to 269-281-2345 or choose your group online.
If you have any questions, email us at growgroups@pmchurch.org.
The Darkness Will Not Overcome Series
The Darkness Will Not Overcome is an 8-part series that will inspire, equip, and empower you to live your best life possible. In every presentation you will learn practical ways we can experience healing, hope, and change. Whatever your "darkness" is—an addiction, a mental health struggle, dysfunction, past trauma, broken relationships, or lack of direction—the Darkness Will Not Overcome! Beginning Friday, October 1.
Neighbor to Neighbor Helping Hands Team
Neighbor to Neighbor (our local Adventist Community Services center) is currently looking for volunteers for their "Helping Hand Team". To respond, please call 269-471-7411 or visit them at 9147 US 31, Berrien Springs, MI.
Pioneer Collegiate Sabbath School
Pioneer's new Collegiate Sabbath School meets in the Pioneer Commons! This is a place for interactive connections with Collegiates and with God, to study the stories of Jesus and what they mean for us today. Breakfast snacks will be provided.
Weekly on Sabbath, 10:30 AM
Location: Pioneer Commons
Care Giver's Support Group
Are you the primary caregiver for your spouse or another person? If so we have a resource available for you. Care Giver's Support Group, Thursday evenings starting at 6:30 PM, at Neighbor to Neighbor (West entrance). You're invited to come and  recharge your "batteries". For more information call Pastor John Glass at 262-825-3632.
Howard Series Presents: Risus Quartet
Winners of the 2021 Fischoff Grand Prize and Gold Medal, the Risus Quartet was officially founded in 2020 in South Korea by four young passionate musicians. "Risus" in Latin means "laugh" and was named in the sense of wanting to give joy and laughter to their audiences.  After graduating from Seoul National University, the quartet members began their studies in the United States where they broadened their view as musicians.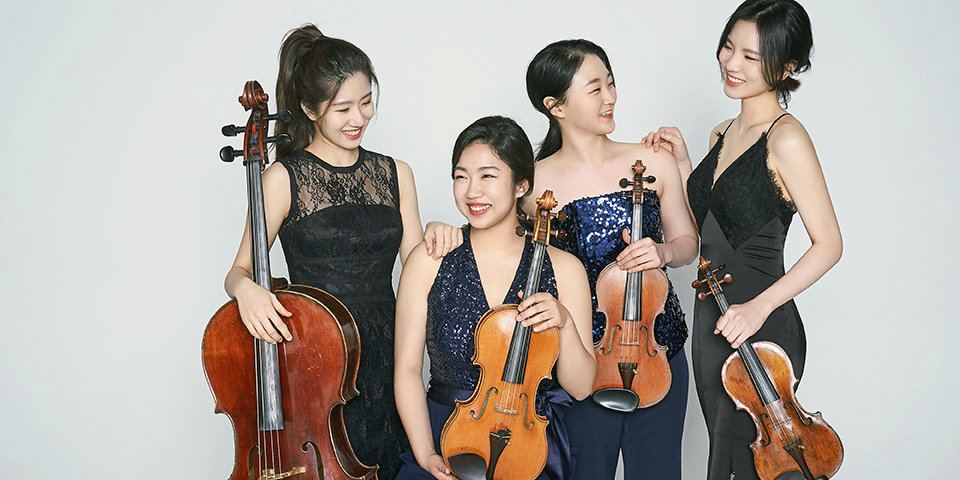 Pages